OMG! WINO 4EVA.
Before I completely run out of acronyms slash ditzy aphorisms, it's time to remind our loyal reader population that this Saturday is the 5th Annual We Still Believe You, Winona Movie Marathon. In accordance with the coming holiday, we have belatedly introduced a Halloween quality to this shindig. It is strongly recommended that participants dress, or at least embody the soul, of a character or symbol from a Winona movie. I will be going as Brittany Murphy's character in Girl, Interrupted. Which will consist of me wearing a noose around my neck with slit wrists and gnawing on chicken. And hopefully getting the opportunity to scream, "Get that out of my face, ASShole!" at least 10 times throughout the course of the evening.
I'm pretty sure I bought that headband at Duane Reade last year. And that my dad has that sweater.
In one of the more predictable decisions, Olivia has decided to go as Brittany Murphy's cat that Winona ends up bringing back to the psych ward after Britt decides to hang herself in the bathroom to the tune of "The End of the World" by Skeeter Davis. Ah, memories. If this was not a Winona-related event, Olivia would obviously be getting her fur dyed black so she could go as Boo Boo Brewer from The Babysitters Club Little Sister series.
The only time I've ever heard of someone jumping over LITERALLY two cans and breaking their wrist. That's Karen Brewer for you. Christ.
And because I know you care SO much, I have provided a snippet from Babysitters Club Little Sister #30 - Karen's Kittens:
I hurried into the kitchen. I filled a bowl with water and a plate with some of Boo-Boo's cat food. I did not bother asking Boo-Boo first. Since he was such a mean old cat, he probably would not want to share.

I raced back to the toolshed. On the way, I tripped over a rock and spilled everything. Boo. I had to pick up all the food, then go back and fill the bowl with water again.

I hoped the cat would not have her kittens before I got back to the shed.

She didn't. I was starting to feel really lucky. It had started out a boring Saturday. But it was not boring anymore. And I had wanted a cat or a kitten. Now I was going to have some!
I'm pretty sure Rosie O'Donnell was the ghost writer for that series.
For those of you who have already forgotten, this is the line-up for Winona 2006:
5PM
In which it appears Daniel Day-Lewis molests Michelle Pfeiffer's neck while Winona inhales a flower. Good times.
7:30 PM
In which Christian Slater murders douches with liquid drano.
9:30 PM
In which Winona participates in incest goodness with Dennis Quaid.
11:30ish PM
In which Winona makes hats and dies whilst falling in love with a prematurely gray Tibetan wunderkind.
As a total afterthought, i.e., I am horrible at updating regarding movie reviews for the Oscar season, I would just humbly submit that Little Children is incredible and is my personal favorite movie so far. However, I will be the first to admit that it's very early still and we haven't seen Cate Blanchett's 5 million attempts to
steal another Oscar from Natalie Portman
reclaim Oscar gold. And I didn't like The Departed, though it's the first movie Leo has legit been hot in, and I thought Flags of our Fathers was a sold 3.5-star movie, but not as good as Million Dollar Baby, which I still contend was the last great movie to be released in the modern era.
In honor of costumes/Halloween goodness, here is a montage of pugs wearing clothes. <3.
If ever there was a pug that looked like Whoopi Goldberg in The Color Purple...Heh. And the pug doesn't have eyebrows either.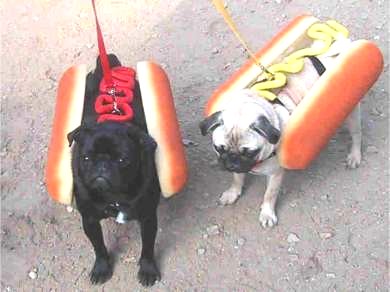 If I saw that on the street...I wouldn't eat it, because I don't believe in condiments, but...man. Swoon.
For anyone who doubts my ability to take care of Olivia - I would NEVER put a Puff the Magic Dragon costume on her. Unless she looked REALLY cute.
ARRRRRRRRRRRRRRRRRRRRRRRRROOOOOOOOOOOOOVVVVVVV!